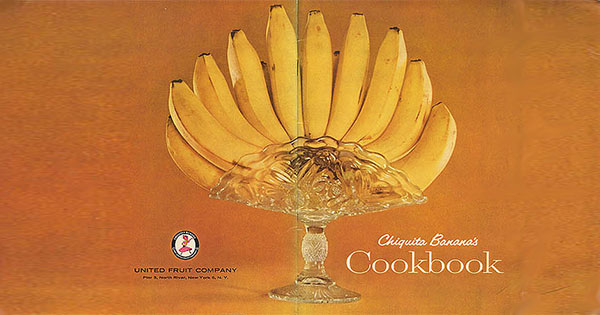 For the next several weeks, we will republish our favorite "Neutral Ground" columns from this year.
---
New Orleans has a festival for pretty much anything you can eat or drink: poboys, Creole tomatoes, gumbo, seafood, cocktails, barbecue, a squash with dimply green skin called a mirliton.
Yet there's one glaring omission: a banana festival.
This is inexplicable. Wilmington, Ohio, has a banana split festival. California has at least two banana festivals. The twin cities of Fulton, Kentucky, and South Fulton, Tennessee, jointly host an annual International Banana Festival, which includes the ceremonial serving of the One-Ton Banana Pudding. Fultonophiles like to claim that 70 percent of all bananas eaten in the United States once went by rail through Fulton (they had the only icehouse en route to Chicago), and that Fulton was once known as "The Banana Capital of the World."
New Orleans, remarkably, has let this slide. Yet, by any reasonable measure, New Orleans was truly the nation's banana capital. It was among the closest ports to the plantations of the Caribbean and Central America, and developed a large infrastructure to accommodate the banana. The city had a great many railcars and Mississippi River barges awaiting the ripening fruit to take it deep into the interior. The writer Lafcadio Hearn called the city the "Gate of the Tropics," which has a nicer ring than "Banana Capital." Still, bananas passed through by the billions.
Bananas, which had gained the nation's attention at the 1876 Philadelphia Centennial, became America's fruit in the early 20th century, when it first outsold the more patriotic apple. In 1910 alone, 45 million bunches were offloaded at the port of New Orleans. At the time, the city was home to two of the nation's major banana importers, the Cuyamel Fruit Company and Standard Fruit and Steamship Company, both launched by European immigrants. Both also acquired steamship fleets and cheap land in Central America, where they established their own plantations, rail lines, postal services, and radio stations—all for a slender yellow fruit.
The Boston-based United Fruit Company, which got its start importing Jamaican bananas, acquired Cuyamel from founder Sam "the Banana Man" Zemurray in 1930 for a cool $32 million. Two years later Zemurray came out of retirement and snapped up United Fruit, cementing New Orleans's central role in the banana trade. (For a wonderful chronicling of all this, see Rich Cohen's 2012 book, The Fish That Ate a Whale.) At one point, United Fruit controlled a half-mile of New Orleans waterfront.
Banana tourists, of which I'm sure there are many (right?), occasionally stop by the former United Fruit headquarters downtown at 321 St. Charles Avenue, to admire its rococo door surround. It looks like a portal leading into a Spanish mission established for the veneration of tropical fruit, with carved cornucopia spilling out a ripe abundance that sits atop a pediment of voluptuous volutes. Another tour stop is Zemurray's uptown mansion, built in 1907 right on the St. Charles streetcar line, today the home to Tulane's president.
United Fruit's dominance in the city perhaps explains why there's no banana festival today. Few would argue that the company was the city's best corporate citizen, or that this era marked the city's best moment.
Zemurray was effectively overlord of a confederation of banana republics, and ran countries from New Orleans like a dictator in exile. He helped orchestrate a coup in Honduras after a new president displeased him. More infamously, he helped plan and carry out (with the CIA and U.S. State Department) the overthrow of leftist Guatemalan president Jacobo Árbenz, who had launched "an intensely nationalistic program of progress colored by the touchy, anti-foreign inferiority complex of the 'Banana Republic'" (the CIA's words). United Fruit was also involved in the Bay of Pigs.
Starting in the 1950s, the banana trade lost its influence, and departed New Orleans quietly and with little fanfare—the United Fruit Company was eventually sold and relocated its headquarters to New York; Standard Fruit moved to Mississippi, and was then sold to California-based Dole. New Orleans slipped into a banana vacuum.
But there's been an intriguing replay of history in recent months. After being eclipsed for years, Central America has seen banana exports rebound. The Food and Agriculture Organization of the United Nations reported last year "a remarkable shift from exports originating in South America towards greater exports from Central America and Mexico." And then Chiquita (the successor to United Fruit) recently announced that it was moving operations back to New Orleans from Gulfport, Mississippi after four decades away, enticed in large part by $15 million in state-funded port improvements. According to the head of the Louisiana Department of Economic Development, Stephen Moret, New Orleans will now be "one of the premier ports for temperature-sensitive cargo."
"The Temperature-Sensitive Cargo Festival" may lack a certain poetry and vim, but it nicely looks to the future as it sidesteps a messy past.
I predict this festival will be staged at the new riverfront park in Bywater within two years. Book your tickets now.
Permission required for reprinting, reproducing, or other uses.