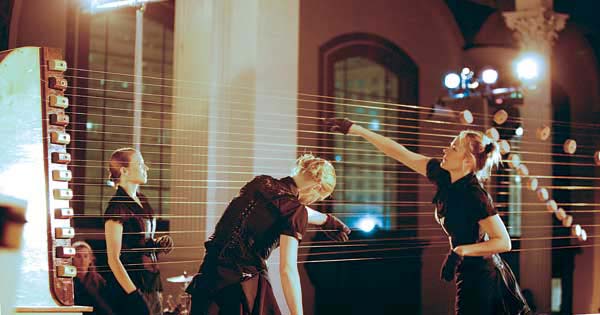 Turning buildings into musical instruments, specifically harps with strings as long as 800 feet, forces you to perceive space differently, says dancer and choreographer Holly Rothschild, a founding member of the Los Angeles-based performance group String Theory. "A lot of people don't even realize they're instruments until they're activated," she says. For harpists, plucking instruments this large becomes a form of full-body expression.
Rothschild, Luke Rothschild (maker of the harps and her husband), and cellist Joseph Harvey formed String Theory in 2002, setting out to fuse dance, architecture, and music. The harps' brass strings (either 12 or 24) are attached to buildings via padded clamps. The scale of the instruments creates unusual harmonic overtones in performances of both original compositions and arrangements that blur popular and classical pieces. Modern dance choreography, influenced by post-German expressionism and Japanese Butoh, completes what Holly Rothschild calls an "immersive environment."
On February 28 and March 1, String Theory will transform Miles Memorial Playhouse in Santa Monica with several giant harps—the largest a mere 80 feet long in this relatively intimate venue. About a dozen dancers and musicians will debut new music and instrument configurations at the performances. Even String Theory is unsure what to expect. "Every time we set up it's a little different," Rothschild says.
Permission required for reprinting, reproducing, or other uses.